Looking for Lodging?
Check out 'The Upper Deck'
Homosassa River Home w/ Private Boat Ramp & Kayaks
Description
THE FUN STARTS HERE! If you're looking for a true boater and fisherman's retreat, look no further than 'The Upper Deck,' a riverside 2-bed, 3-bath vacation rental house in Homosassa! This nautical haven boasts a private boat ramp, a private cove to tie your boat up and a rooftop deck, while watching sunsets over the river. Visit nearby Homosassa State Park and have your own manatee encounter! With delicious restaurants, boutique shops, and museums nearby, there's something for everyone!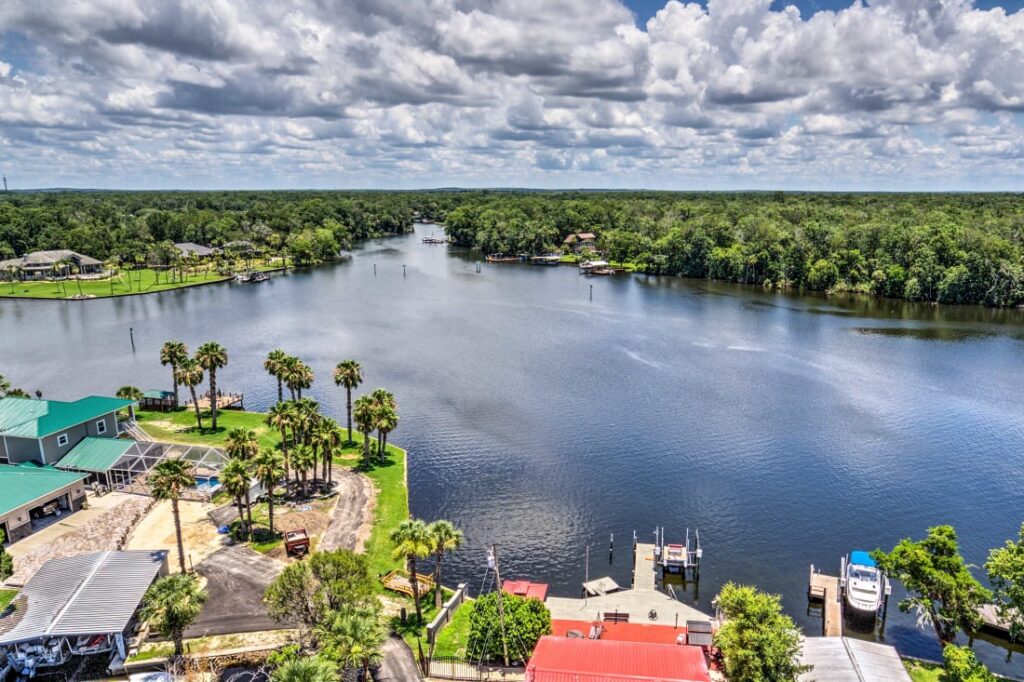 Book Your Stay At 'the Upper Deck' Now!
$185 average per night
Bookings done through evolve.com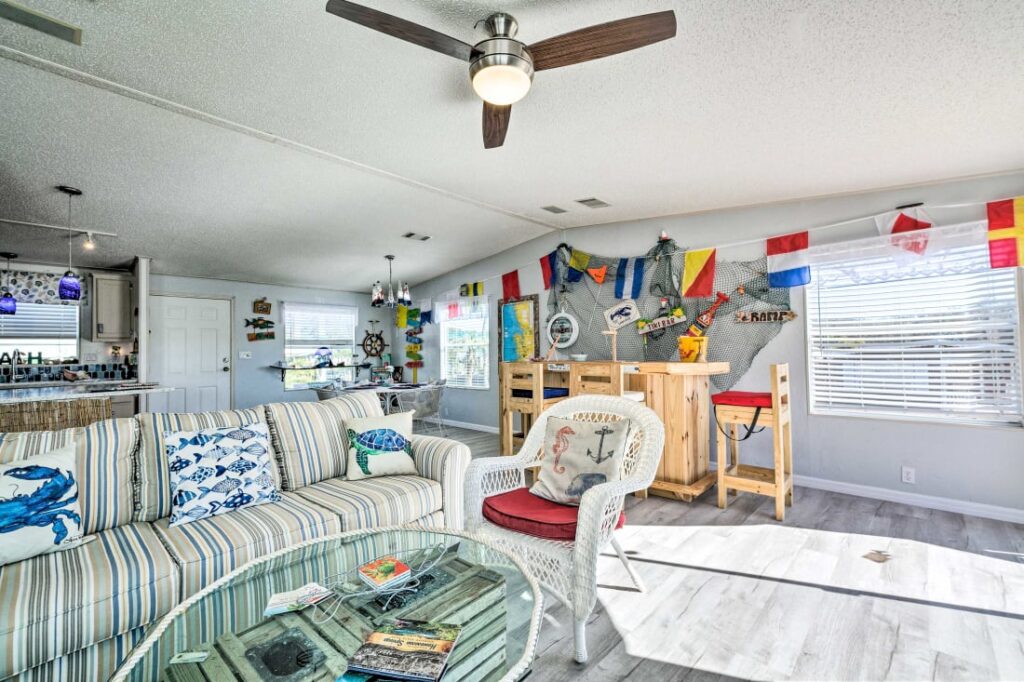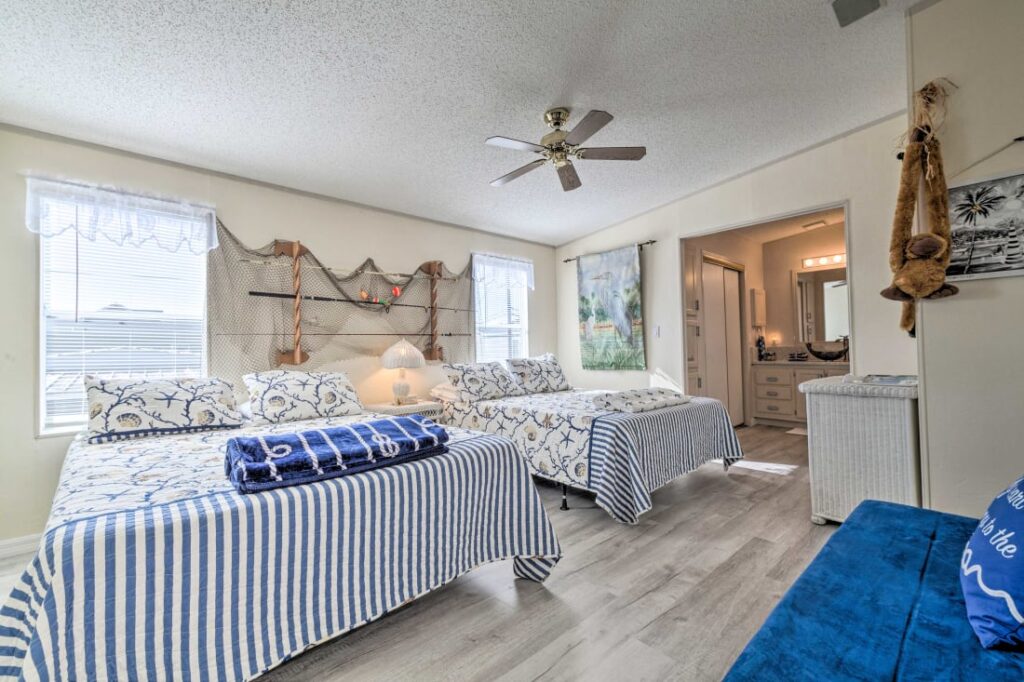 The Property
Sleeps 8 guests

Master Bedroom (Captain's Quarters): 2 Queen

Bedroom 2 (Crew's Quarters): Queen Bed, Futon

3 Bathrooms
The moment you walk into this cozy home, the marine decor and tiki bar will immediately inspire you to head to the water for a fishing or boating excursion from the private boat ramp!
The bright, fully equipped kitchen is ideal for preparing the catch of the day or any home-cooked meals that you may crave. Proudly serve your meals at the round dining table or your own tiki bar, with total seating for 8.
Decorated with fishnets and tropical fish, the tiki bar offers an ideal spot to make a tropical cocktail. Bordering the bar is a sliding glass door to the large private grassy yard. Stroll over to the newly built cove to untie your boat from one of the palm trees! Head over to Monkey Island just across the water to visit the 4 friendly monkeys living there!
The living area features 4 large windows allowing natural light to pour in, making the space airy and open. Sit back and relax on the sofa and chairs, which encircle a large, flat-screen cable TV to watch your favorite shows.
This home is appropriately named 'The Upper Deck' as this area will quickly become your favorite part of the home with outdoor seating around a fire pit and great water views. When the sun has set and the stars are sparkling above, sit around the fire pit and share stories from the day's adventures.
The 'Captain's Quarters' features 2 queen beds and an abundance of natural light, creating a calm and serene ambiance. The 'Crew's Quarters' provides a queen bed, futon, and an attached bathroom with modern amenities.
Book Your Stay At 'the Upper Deck' Now!
$185 average per night
Bookings done through evolve.com
Additional Details
Amenities include free WiFi, 1 flat-screen cable TV, fully equipped kitchen, fully furnished upper deck with fire pit, paddle board, private boat ramp, 4 adult kayaks and 1 child kayak, inflatable row boat, large yard for boat trailer parking and much more

Prime Homosassa Springs location - Within walking distance to the Homosassa River, and just easy access to Homosassa Springs Wildlife Park, golf courses, restaurants and more!

Airport: Tampa International Airport (69.2 miles)

NOTE: Your safety matters. This property features 4 external Blink security cameras, located at the front door facing outward, back door facing kayaks and water toys, upper deck facing the fire pit, and patio facing the backyard. They do not look into any interior spaces.